GOODGER SPECIALIST
EQUIPMENT LTD
Goodger Specialist Equipment Ltd offer a variety of Electric plant for hire, including the new JCB Electric 19C-1E 1.9 Tonne Excavators, JCB HTD-5E Electric Dumpsters, Ecovolve ED1000 Dumpers and Sherpa Electric Skid-Steers. All with zero emissions.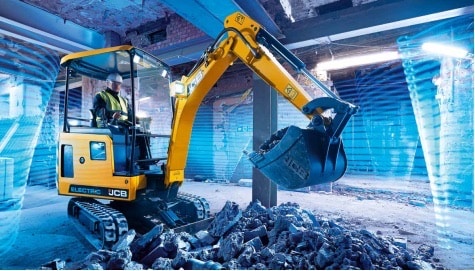 JCB 19C-1E Electric Mini Excavator
This JCB E-TEC product is part of a new generation of electric products with zero emissions at point of use that don't compromise on performance. The new 19C-1E is the first of the electric generation and the industry's first fully electric mini excavator. It lets you do a full day's work on a single charge, giving you access to a whole new world of possibilities.
Key features:
Zero emissions
Up to 8 hours working charge
Overnight charging
Very low noise pollution
Super charger for 2-4 hour recharge
The 19C-1E has maintenance free batteries, needs minimal daily checks and requires less servicing.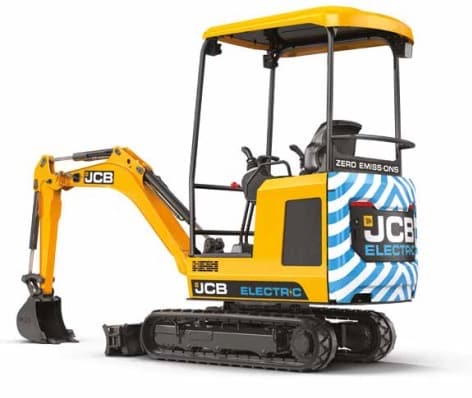 Specifications:
Operating Weight: 1862 kg
Max. Dig Depth: 2.819m
Max. Dump Height: 2.818 m
JCB Electric Dumpster
Goodger Specialist Equipment are now offering this JCB zero emission Dumpster for immediate hire. The HTD-5E is a compact, high-tip, electric powered Dumpster, designed by JCB to save you time, energy and money.
• Zero Emissions
• Low Noise
• Maximum machine width of just 690mm
• Fits through a standard doorway
• 1,450mm load over directly into a skip or high sided vehicle
• High carrying capacity of 500kg
• 100% Electric powered
• No compromise on performance
• Instant Power
• Instant Torque
• Instance Response
• 2 hour charge time from any standard 13A socket outlet. 110V or 230V available
EcoVolve ED1000 Battery Powered
High Tip Dumper
Goodger Specialist Equipment can offer the zero emission Dumper with  the fully charged battery run time is 8-10 hours and full recharge from flat is also 8-10 hours. The battery pack is of AGM sealed/dry-fit type with no maintenance and an expected life cycle of up-to 7 years (subject to following good charging practice).
The drive system is direct electric, with brushless/sealed AC motors and a motor control system. Everything is very high quality, high efficiency and designed to work all day long in the rough world of demolition contracting where Ecovolve has gained a reputation for building Dumpers that just do the job and take the punishment.
Sherpa 100 Eco Mini Skid-Steer Loader
Goodger Specialist Equipment offer our SHERPA 100 ECO. Hanenberg Materieel Ltd. was the first manufacturer to introduce an electric mini skid-steer the SHERPA 100 eco. The SHERPA 100 eco is just as powerful as the model with the combustion engine and is particularly suitable for indoor demolition work and work in stables.
The 76-cm wide mini compact loader is powered by a surprisingly strong 2-HP front-mounted electric motor. Pressing the accelerator quickly builds up the pressure in the system. The space that normally contains the combustion engine now stores a 360-Ampere battery pack that powers the mini skid-steer for up to 7 hours.
Goodger SE will be able to work with you whatever your requirements.
Equipment Available to Buy
Goodger Specialist Equipment Ltd, 66 Dargets Road, Chatham, Kent, ME5 8BL
Call Us
Kent: 01634 376700
Lincoln: 01526 397922
Mobile: 07900 265667